If you have purchased tickets to a streaming or video on demand event, and are wondering how you can view the event, please read this article. For troubleshooting of any issues while viewing, please see this article.
TMS broadcasts are available to view on your computer / laptop, tablet or phone, as well as some TVs.

What is a TMS broadcast?
A TicketCo Media Services (or TMS) broadcast refers to a digital event which is being broadcast through TicketCo. You may have purchased tickets to view a theatre performance, a music concert, or a football match, from the comfort of your own home.
Event organisers sell and distribute tickets to streamed content and video on demand. When purchasing a ticket for a digital event, it should be made clear whether you have purchased a streaming or video on demand ticket.
How do I watch the broadcast on my computer or laptop? 



Find the email from TicketCo that you received when you bought your ticket. Click on the play button, and this will open a new tab in your browser where you can view the event. Enjoy the show!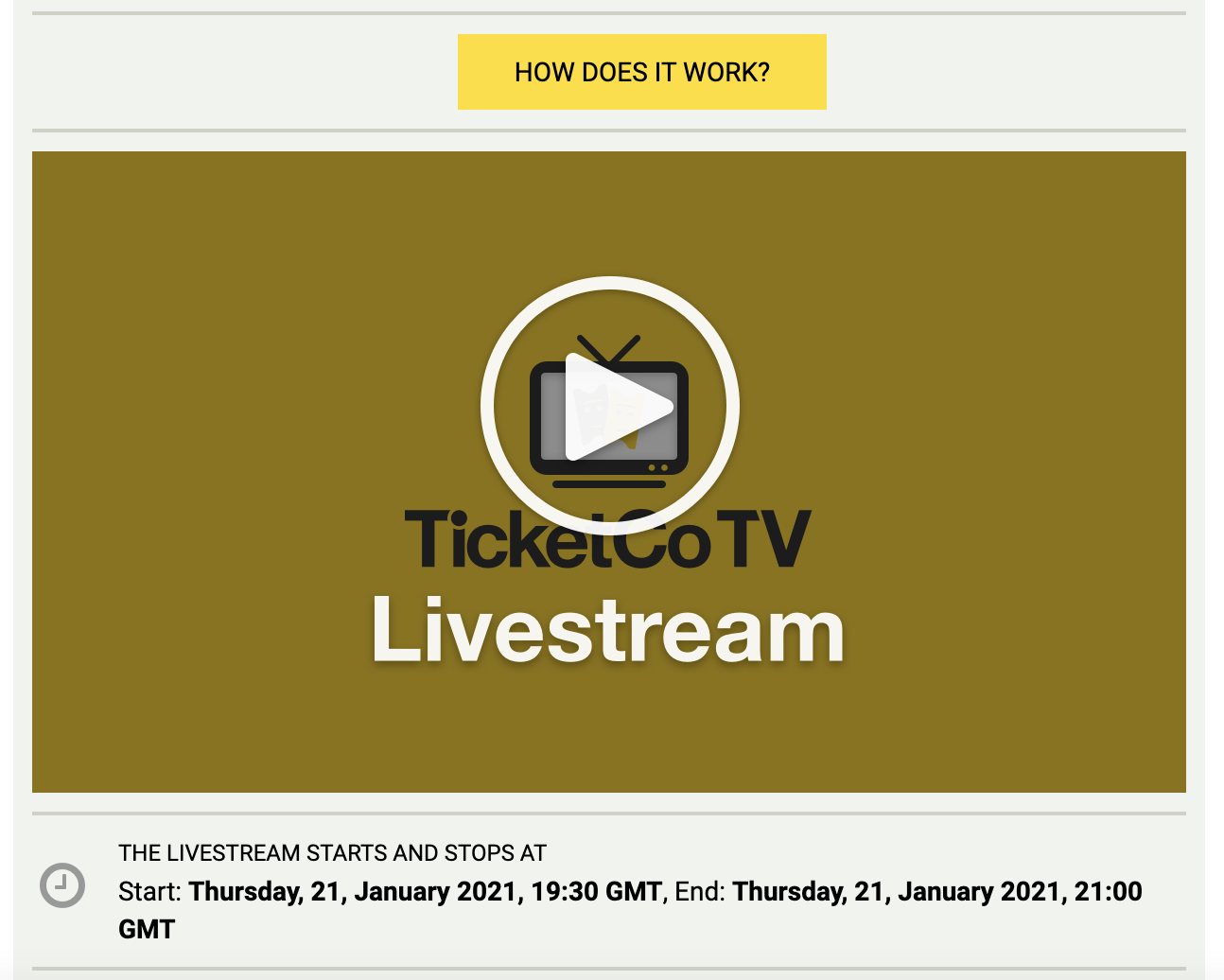 Alternatively, head to ticketco.tv or ticketco.events/stream and enter your 5 letter code into the ID box. Your code can be found on your tickets. If your ID is recognised, you will granted access to the online event. Enjoy!
How do I watch the broadcast on my TV?
TicketCo Media Services app is compatible with the following:
 Apple TV – you will need tvOS 13.0 or higher
 Android TV – you will need version 7.0 or higher
 Amazon Fire TV/Firestick
Go to your app store, and search up "TicketCo TV". Download and open the app. You will be asked to input your 5 letter reference code, and once correctly inputted, you will be directed to the broadcast.
 Chromecast – 2nd generation or newer
Open the Chrome browser on your Android or Windows device, or on your computer, and select the casting icon in the video player. Note that you cannot cast from web browsers on iOS devices due to a limitation by Google.
 HDMI linked to your computer
You can also open up the link to the broadcast on your computer or laptop (as described above), and then use an HDMI cable to view the show on your TV.
Can I download the app to my Smart TV?
This depends on the operating system your Smart TV has. There are currently a wide range of TVs out there, and there are a variety of different operating systems out there too.
The TicketCo TV app is compatible with the Android operating system, meaning that it is available to download from the Google Play Store on your TV. If you do not have access to the Google Play Store on your TV, this would indicate that your TV might use a different operating system, such as Roku or Tizen. If this is the case, you should consider using  Chromecast, Amazon Fire TV or an HDMI cable in order to view the show on your TV. 
Do I need to tune into the broadcast at a specific time?
You will be able to enter Swindon Wildcats stream up to 30 minutes before the face-off time. The first 15 minutes will give you time to set up the stream and then the stream intro will begin.